June 9 to 12
Power Go is pleased to participate for the first time in the Grand Défi Pierre Lavoie's cycling marathon, which will take place from June 9 to 12. 
Our president Martin Paquette will be flanked by his colleagues Éric Rousseau, Marc Dupont, Martin Goudreau, Maxime Champagne and Luc Villeneuve in this incredible sporting challenge. Together, they will pedal 1,000 kilometers from Saguenay-Lac-Saint-Jean to Montréal.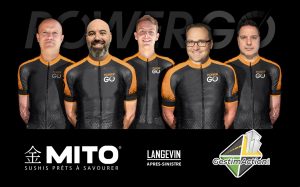 Each team member will ride an average of 400 km over 60 hours. It will certainly be a great human adventure for them, during which they will come straight out of their comfort zone and draw from them unexpected inner forces, in addition to experiencing an unforgettable group exploit. 
Our "colleagues on wheels" will be surrounded by more than 200 other groups cycling for the same goal of raising funds to motivate pupils throughout Quebec to adopt healthful lifestyles. As such, the Power Go cycling squad is proud to sponsor the Saint-Côme elementary school in the Lanaudière region. 
For Martin Paquette, encouraging physical exercise must be. As we quietly emerge from a pandemic that has confined us and put sports activities aside, we need to lead by example. "It's important to get people moving in our business, so they can improve their health," says Martin. 
Social engagement is also crucial to Martin Paquette and the Power Go team. Motivating young people to engage in physical activity and adopt a healthy shift, while supporting research on orphan hereditary diseases, is worth each kilometer that will be travelled! 
We wish our cyclists every success in their quest… and not too many headwinds! 
Subscribe to their Facebook page